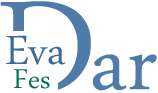 is a traditional house of the old Medina, with open central courtyard and rooftop terrace. Located in the quiet uptown district of Talaa (14th century), the house is close to all major places of the Medina, as well as shops and restaurants. This Riad is ideal for a family stay or an Orientalist getaway !
Patient work has restored this singular house. Here, everything is charms, mysteries, perfumes ...

 a charming house
Dar Eva can comfortably accommodate up to six Guests. The place is perfect for a family stay, a romantic getaway or spiritual retreat !
It is a house of 2160 sqft, built on three levels around a patio with ancient fountain:
• Two double ensuite bedrooms and one twin ensuite bedroom (master bedroom with bathtub)
• Silent air conditioning system/heating
• Traditional Moroccan Salon. Winter Salon with fireplace and satellite TV
• A plaisant office room. Wi-Fi in all house
• A well-equipped kitchen and a cozy dining room
• Two rooftop terraces allowing sunbathing are surrounded by bougainvillea, jasmine and fragrant seasonal flowers. You will marvel about the view beyond the roofs of the medina, the medieval ramparts, the hill Zβlagh planted with olive trees and the sixteenth century Borj North (bastion), illuminated at night

 in the heart of Fez Medina
Dar Eva is ideally located to enjoy your stay : click to see the FEZ medina map
• Close to the museums, restaurants, gardens, souks et palais anciens
• Close to the taxis station and the guarded car park
• The house is nestled in a tranquil alley, easy to find back walks !